BetRivers Sportsbook & Casino Rewards
iRush Rewards
Get ready to take your online playing experience to the next level! Welcome to iRush Rewards, Michigan's premier online rewards program. Our program is all about fair and generous ways to give our players exactly what they deserve.
Every real money wager you make will earn both Loyalty Level Points and Bonus Store Points. Loyalty Level Points are used to increase your Loyalty Level and Bonus Store Points can be redeemed to purchase rewards in our Bonus Store! We are dedicated to reciprocating your loyalty to us, so we made sure you reap the benefits of the Loyalty Level you've achieved. As you climb the Loyalty Levels additional bonuses will unlock in the Bonus Store and the higher your level the more generous they will be!
From specialized promotions to VIP dinner and complimentary playing devices, our new benefits reward you every step of the way.
See your iRush Rewards benefits below.
1
2
3
4
5
6
7
8
9
10
Required Points
40
160
400
760
1400
2800
5200
8800
13600
20000
Invite
Only

Bonus Store Access

BetRivers Special Offers

Custom Deposit Limit Assistance

EXCLUSIVE BETRIVERS SWAG


Exclusive VIP Promotional Calendar

VIP Birthday Gifts

Exclusive VIP Events

Expedited Withdrawals

Luxury VIP Gifts

DEDICATED VIP MANAGER


Lifetime Custom VIP Avatar

VIP Thank You Dinner

Elite VIP Promotions

Dedicated VIP Concierge

Free Apple or Android Playing Device

Ultra Luxury VIP Gifts
Bonus Store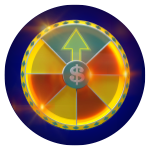 You deserve more, and more is what we are giving you! In our unique Bonus Store YOU decide what to redeem and when to redeem it – it is all up to you! Want guaranteed Bonus Money? Choose from a variety of Wheel Spins or other bonus money prizes - each one set at a different level so you can purchase the prize that suits your needs by redeeming your Bonus Store Points!
It's all very simple: You earn Loyalty Level Points and Bonus Store Points by wagering real money on our casino games or on your preferred sports. The more Loyalty Level Points you earn, the higher the Loyalty Level you will attain. This equates with added perks from our standard iRR Rewards Loyalty Program as well as providing discounts on items in our Bonus Store. The more Bonus Store Points you earn, the more you can redeem on items in our Bonus Store! Please scroll down to the Progress Bar section for more specifics about how you earn both Loyalty Level Points and Bonus Store Points.
Progress Bar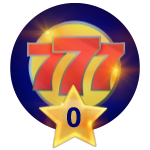 Our unique progress bar makes it very easy for you to follow your Loyalty Level in real time and how many points you are away from reaching the next Level. You can easily track your progress by going to "My Rewards" or simply looking at the meter on the top of the page near "My Account". You will earn Loyalty Level Points by wagering real money on our games or by placing real money bets and point accumulation is based on the return to player configuration of each individual game to make it fair for everyone (see examples below).
Loyalty Level Points work on a 60-day rolling period. All points will stay with you for 30 days from the date that you earn them. For the next 30 days, they will gradually decline. Fortunately, any decrease in points during the rolling 60-day period will be replaced with new points you earn, so your Loyalty Level will always and more accurately reflect your real money wagering activity. The progress bar will update once a day when Loyalty Level Points have dropped off and anytime you earn more Loyalty Level Points throughout the day. The 60-day rolling period does not apply to Bonus Store points as they are available for redemption for a year from the date they are earned.

You will notice a number at the bottom of your Avatar representing your Active Loyalty Level. Be sure to climb your way to the top to reap all the benefits and ensure you receive everything iRush Rewards has to offer at each increasing Loyalty Level. You deserve more rewards and we're here to give them to you!
Sportsbook Point Accumulation:
| Combination Size | Wager Per 1 Point |
| --- | --- |
| 1 | $6.00 |
| 2 | $3.00 |
| 3 | $2.00 |
| 4 | $1.50 |
| 5 | $1.25 |
| 6 | $1.05 |
| 7 | $0.90 |
| 8 | $0.75 |
| 9 | $0.60 |
| 10-12 | $0.50 |
Casino Point Accumulation:
| Game RTP | Wager Per 1 Point |
| --- | --- |
| 94.0% | $4.17 |
| 95.0% | $5.00 |
| 97.5% | $10.00 |
| 99.0% | $25.00 |
To maintain your current Loyalty Level you need to keep wagering at the same pace you were in the past. Loyalty Level Points will be deducted once a day using a formula that takes into account the average of the points you've accumulated 31-60 days ago.
For example: If you accumulated 300 points in the window between 31 and 60 days ago, you Loyalty Points will be deducted by 10 points today, as 300 divided by 30 is equal to 10. Therefore, to maintain the same number of Loyalty Points you would need to earn at least 10 Loyalty Level Points today. You can always increase your Loyalty Level by earning more than the number of points deducted.
Bonus Bank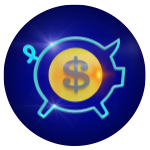 At the heart of our reinvestment program is our Bonus Bank. We believe you deserve an easy to understand, flexible, and fair way to claim your Bonus Money. We also understand that it is your Bonus Money and you should have full control over deciding when and how much of your Bonus Money to play. For example, you can play it all immediately or stack it and save some or all for later. Most importantly, you can easily track at all times how much Bonus Money you have to play through until the winnings are yours to cash out if you'd like.
Simply:
Bank it – Bonus money received from our various promotions such as our Prize Wheel Spin, Bingo Games, and Leaderboard can be stacked and added to your Bonus Bank OR played through immediately if no existing bonus is active.
Play it – Simply click the My Bonus Bank dropdown on the top banner or My Bonuses under the My Account dropdown to activate your Bonus Money to play through with our player friendly, lowest play through requirement in the market (only 1 times play through!). You can track your bonus play through progress on your Bonus meter so you know exactly how much to play before the Bonus Money is yours for the taking. Please note that Bonus Money activated from your Bonus Bank has to be played on eligible games (any slot or video poker games) and our site/app will remind you of this at the time.
Take it – Once you have played through your Bonus Money and satisfied our industry low 1x play through requirements, all of your winnings are yours for the taking.
Bonus Money Meter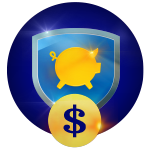 Tied in with our Bonus Bank is our Bonus Money Meter. This is where you can easily see how much Bonus Money you have currently activated and how much longer before the winnings are yours for the taking. Whenever you receive Bonus Money through our Promotions and Rewards that are Bonus Bank eligible (i.e. 1X play through on slot or video poker games), you will be able to add the Bonus Money to your Bonus Bank OR play through it immediately if no other bonus is active. We developed the Bonus Money Meter to provide you with full transparency at all times over the status of your Bonus Money. You can choose how much Bonus Money you want to activate so you are not tied down to anything. You choose whether you want to gamble with Bonus Money or your money, it's that simple. To do so, simply choose how much of your Bonus Money you would like to activate, click activate, and play through the Bonus Money. The Bonus Money Meter will show your progress so you know exactly how much you need to play through before the winnings are yours for the taking.
You can visit the My Bonus Bank dropdown or go to My Bonuses under the My Account dropdown to keep track of your Bonus Money.